May 26, 2022birthday gift ideas
30th Birthday Present Ideas For Her
Do you have a partner, sister, friend or even a work colleague who's about to turn 30? Finally leaving your 20s means it's a biggie of a birthday that's definitely worth celebrating - but it's safe to say that finding the right gift is hard. 
So are you trying to find the perfect pressie to say 'goodbye 20s, hello 30s'? Worry not, because we've created this great guide with a list of 30th birthday gift ideas for her that we know she'll love. 
Wine and dine her for her birthday with our Australian Wine & Chocolate Gift Hamper! 
This is such a great gift for wine drinkers because it pairs up Annie's Lane Shiraz, a vibrant full to medium bodied red from the Clare Valley region, with sweet local favourites like chocolate macadamias, Byron Bay cacao, sweet & salty peanuts. 
Delicious and indulgent. This is the perfect gift for making her feel spoiled on her birthday.
A 30th birthday is cause for celebration. She might be closing the door on her 20s, but she's stepping into a new era of maturity. For so many of us, our 30s are when we really start to shine - so you should mark the occasion with a toast! 

One of our top picks for a celebratory birthday gift is our Chandon Celebration Gift Hamper. With a well-balanced mix of bubbles, food and items to pamper her inside, this hamper is a great idea for a party. It includes a bottle of Chandon sparkling wine, a box of 12 chocolates from Byron Bay Cacao, cookies, body butter and a coconut & lime candle made locally in Byron Bay.
If you want to gift her with something lasting and sentimental on her 30th birthday to commemorate the occasion, then a personalised jewellery is a great way to do it. 
We especially love necklaces that include something significant and unique to her in their design, like jewellery inscribed with her date of birth, or adorned with her birthstone, birth flower or special charm. 
Opt for a dainty, timeless design or try permanent jewellery and she'll be able to wear it for many years to come!
Our Gourmet Delight Gift Hamper is the perfect gift for a special event like a 30th birthday because it pairs up a bottle of sparkling, effervescent Moët Champagne with all the gourmet snacks you could possibly need for a party. 
If she's a foodie then she'll love exploring the amazing selection of flavours inside. Triple choc fudge cookies, Butterburst biscuits and Wallaby Bites will be a treat for her sweet tooth, plus she'll love trying out a blend of Brookfarm's premium nuts, sea celery & mustard pickle, capsicum chilli jam and crunchy crispbreads.
If she's a lover of all things beauty, then our Wellness Pamper Hamper is the perfect gift to indulge her. 
It includes a number of Australian made products designed to make her feel pampered and rejuvenated. The hamper includes everything she needs for a relaxing soak in the tub, including Sanctum organic soap, a Byron Bay candle and a loofah, as well as skincare products made from natural and organic ingredients like a Loyal Crush Matcha Magic Clay Mask, Hemp Body Butter and moisturising body creme. 
She'll also find organic loose leaf tea, a small dish and spoon and a tea strainer inside too - because no pamper session is complete without a soothing cup of tea!
If she loves pretty cocktails and the subtle flavour of Australian botanicals, then she'll love our  Ink Gin Hamper. With a bottle of Ink Gin as its centrepiece, this hamper is truly impressive! 
Ink Gin is infused with Butter pea flower which is pH sensitive, so it dramatically changes colour when exposed to things like tonic water, lime or lemon. It's a beautifully theatrical spirit and great in a cocktail thanks to its delicious botanical flavours. We've also included a number of sweet and savoury gourmet snacks for her to enjoy alongside it too.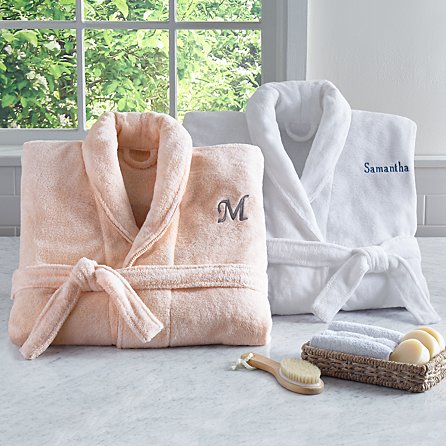 If she's anything like us, late nights spent partying tend to become a lot less regular. Don't get us wrong, we still love a cheeky glass of red, but after a certain age, the hangovers begin to hang around longer and quiet weekends at home seem much more appealing. That's why the perfect pressie for a 30th birthday present is something to make her feel cozy and pampered! 
If you want to give her something that's both thoughtful and practical, then a plush robe made from soft materials like snugly fleece is a great idea. We guarantee she'll want to wear it non-stop!
Final note
We know how challenging it can be to find a great gift for a 30th birthday, so we hope this list has helped to spark some inspiration and ideas for the special women in your life. But if you didn't find a gift in this guide that exactly matches her unique style, don't fret! We have an amazing array of locally sourced products on offer at Byron Bay Gifts available for purchase through our gift shop. Each item can also be mixed and matched with our gift boxes so you can customise something truly special for her!